Thursday, November 17, 2005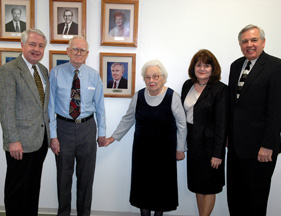 Phil Roberts Added to Faculty Gallery. Several years ago Florida College dedicated a wall in the Chatlos Library for use as a Faculty Gallery to honor faculty members who taught at least 15 years at the college. Today there was a ceremony to remember Dr. D. Philip Roberts and to add his photo to the gallery. Phil taught in the Biblical Studies department at FC for 27 years prior to his untimely death earlier this year. Phil's wife, Eileen, and his parents, Don and Lane Roberts were present as Dean Harry Payne made the presentation. Eight other persons whose photos are on the wall were present for the ceremony. It is a genuine honor to be included with the likes of James R. Cope, Clinton D. Hamilton, Homer Hailey, Melvin Curry, Edgar V. Srygley, Harry Payne, Sr., Phil Roberts, Elizabeth Jenkins, and all the rest who served faithfully at Florida College.
The photo shows President C. G. Caldwell, Don Roberts, Lane Roberts, Eileen Roberts, and Dean Harry E. Payne, Jr.
---
Tuesday, October 18, 2005
Working With a New Church. After 23 years of work with the Carrollwood Church of Christ in Tampa (actually, in Hillsborough County), Florida, I am now working with the Citrus Park Church of Christ. The two churches have merged. You can find our location and some other information at our new website, citrusparkchurch.com. If you have a website with links, please remove the link to the Carrollwood Church and add the new one to the Citrus Park Church.
We look forward to a good work as we join forces together in the western part of Hillsborough county. The Citrus Park building is located at 5105 W. Ehrlich Road. Colly Caldwell and Matt Qualls have been working together as evangelists at Citrus Park. Ray Madrigal has been working with me at Carrollwood. Now, the four of us are working together. Don't say it! We have already heard all of the "four preachers" jokes. We each work "part time" wth the church, and there is plenty to do. Visit with us when you come to the Tampa area.
---
Tuesday, October 18, 2005
Evidence Series at Loudon, TN. Last week I enjoyed a visit with the Church of Christ in Loudon, TN. I enjoyed the hospitality of Jim and Sarah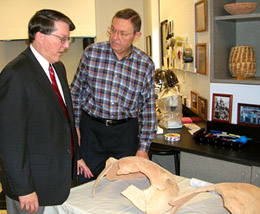 Thomason. Edward Barnes, one of my early students, has been working with the church there for about 9 years, and is doing a good work. We enjoyed several good visits. In addition to the series with the church, I taught two classes at Knoxville Christian School, where Ed's wife, Marilyn, is a teacher. For the High School class I made a presentation on Archaeology and the Ministry of Christ. For the Middle School class I taught on Daily Life in Bible Times.
Another day Ed took me to Johnson Bible College for a short visit with Gerald Mattingly, a friend from professional meetings. Jerry is well known for his archaeological work in Jordan. He is Coordinator of the Karak Resources Project. He is in charge of the Archaeology Lab and showed us some of the unique pottery found in the Karak district of Jordan.
Ed has a B.A. degree from Florida College, and is working on the M.A. degree at JBC.
---
Thursday, October 6, 2005
"Catholic Church no longer swears by truth of the Bible." That's the headline of an article in TIMESONLINE. The article says that the Catholic bishops of England, Wales and Scotland are warning worshippers and others interested in the study of scripture "that they should not expect 'total accuracy' from the Bible." The article reflects the common liberal critical attitude toward the Bible. A list of Untrue and True scriptures are cited. Surely you will want to know before you prepare your lessons for Sunday! Check it out. But also check out Paul (2 Tim. 3:16-17; Eph. 3:1-5) and Peter (2 Pet. 1:16-21). Peter describes such doubters as "mockers" and builds his teaching concerning the second coming of Christ on the account of creation and the flood (2 Pet. 3). Based on traditional Roman Catholic claims, it seems strange that Peter means so little to these Roman scoffers. But, they were wrong about that, too. Thanks to Mark Heard for this heads up.
---
Saturday, September 24, 2005
Daily Life Series at Clermont. Last evening I completed a series of lessons on Daily Life in Bible Times with the Church of Christ in Clermont, FL. This series of lessons is one that I have been developing for the past five years. I chose the following lessons for this meeting: The Ordinary Things of Life; The Potter and His Pottery; The Fifth Gospel; Agriculture in Bible Times; Food in Bible Times; Religion in Bible Times; Trades in Bible Times; Death and Burial in Bible Times. The lessons were illustrated with photographs made in the Bible lands and in the great museums of the world.
Barry and Cyrisse Hudson have worked with the church in Clermont for about 25 years and are dearly loved by the brethren there. The church has a nice location in an area that is growing rapidly. They have three overseers and maintain a good program of work. It was a pleasure to see several old friends and former students (Barry is one). I also enjoyed several short visits with brother Harry E. Payne, Sr. Brother Payne was my professor of church history at Florida (Christian) College immediatley after his return from a preaching tour in Holland. He is now 92 years of age, lives alone, still drives, and has the memory of an elephant. His son-in-law quipped that they had decided to make Harry the executor of their will. Brother Payne and I talked about the students and teachers at FCC from the 50s and later and also about general conditions in the church. I really enjoyed talking with someone who could supply information of interest beyond my own span.
---
Tuesday, September 6, 2005
Bethshan, Beth-shan, Beth-shean, or Beit She'an [spell it as you wish]. According to Ynetnews, Benjamin Netanyahu is campaigning to become leader of the Likud party in Israel. He promised the citizens of Beit She'an that he would turn their town into a tourist mecca.
"I will turn Beit She'an into a site that draws millions of tourists to the archeological sites in this town."
Sounds good enough to get my vote. There is much to see in Bethshan. Thanks to PaleoJudaica for this note.
---
Friday, August 19, 2005
Bitter speech as an arrow. David mentions certain of his enemies, "Who have sharpened their tongue like a sword. They aimed bitter speech as their arrow" (Psalm 64:3 NASB). This is a good thought to consider the next time we think about shooting off our mouth.
---
Friday, August 19, 2005
Blog. Blogging has become an Internet obsession. According to the Merriam-Webster Dictionary blog was the #1 Word of the Year for 2004 based on online lookups. Here is the definition given for blog.
Blog noun [short for Weblog] (1999) : a Web site that contains an online personal journal with reflections, comments, and often hyperlinks provided by the writer.
So, I have decided to change Site News to Blog in hopes of attracting a few more readers who might overlook Site News. Thanks for coming by. Perhaps I will be able to change to a more standard blog format in the near future (time permitting). I have listed several blogs relating to Biblical Studies and Archaeology on the Scholarly page. Take a look.
---
Friday, August 12, 2005
More on the Pool of Siloam. Todd Bolen has more info on the Pool of Siloam. See below for the link to Todd's Thoughts. He also informs us that Biblical Archaeology Review has an article for the Sept./Oct., 2005, issue available online in PDF. The article, written by Herschel Shanks, has good photos and drawings. A direct link to the article is here.
The Temple. Jim Davila, at Paleojudaica, has uploaded Evidence for the First ("Solomonic") Temple, and Historical and Archaeological Evidence for the Herodian Temple.
---
Wednesday, August 10, 2005
Worth thinking about. John Chrysostom (347-407): "Is it not excessively ridiculous to seek the good opinion of those whom you would never wish to be like?" Thanks to WikiQuote.
---
Tuesday, August 9, 2005
| | |
| --- | --- |
| More Archaeology: Pool of Siloam. Discovery of the Pool of Siloam from the time of the ministry of Jesus is hitting the news again. Actually it is old news (more than a year old), but many will read it for the first time. This seems to be the pool where the blind man was sent by Jesus to wash. Todd Bolen provides a good commentary, with some corrections, on the current news reports at Todd's Thoughts. | |
The Philistine City of Gath. Haaretz reports on the excavation of the city of Gath. The article says,
According to Kings II (12:18 [12:17 in English versions]), Gat was conquered by King Hazael of Aram. He intended to capture Jerusalem as well, but King Jehoash of Judah saved the capital while losing treasure taken from the Temple (Kings II 14:14). Findings at the dig support the biblical version of Gat's demise as described in Kings II.
It might be better to say that the findings at the dig shed light on the end of the city and harmonizes with the biblical account.
---
Powerpoint or Not?. The current SBL Forum of the Society of Biblical Literature has an article by William L. Lyons with suggestions on ways to use, not only PowerPoint, but other digital educational enhancements that are available today. He gives illustrations of how he uses his suggestions in an Introduction to the Old Testament course. I think preachers who fear even the thought of using any electronic media in their classes might pay attention to this comment by Lyons:
Nevertheless, PowerPoint is not without its drawbacks. By virtue of its ubiquity, it has become overused and can quickly become boring. Though attractive, it can be repetitive as there are only so many different ways to incorporate text or graphics into the PowerPoint onscreen format. Many younger students are adept at PowerPoint themselves and actually interact on a critical level with the teacher's design choices during the lecture; i.e., focusing less on the material and more on how they might "do it better." Moreover, middle school students have for several years been producing science fair and history fair projects with MS MovieMaker or "Pinnacle Studio" video editing software and consider PowerPoint rather passé.
---
Friday, August 5, 2005
King David's Palace Found? The New York Times reports on the discovery of a major public building from around the 10th century B.C. in East Jerusalem. The discovery is in an area we normally describe as the City of David excavation, "Area G", above the Stepped-Stone structure. Several blogs are reporting on this discovery with comments. The New York Times has a nice photo of Dr. Mazar at the site. Could this be the house described in 2 Samuel 5:11? Others are suggesting this may be the fortress David conquered. Time may tell.
A seal bearing the name of Jehucal son of Shelemiah (Jer. 37:3; 38:1) has been found in the same area. This seal belongs to the time of the Babylonian destruction of Jerusalem. We await more detailed info.
For more information on these discoveries I suggest you keep up to date by reading the blogs we list on the Scholarly page, especially Paleojudaica, and Todd's Thoughts.
---
Monday, July 25, 2005

Web Hosting. This site has been hosted by Tiger Technologies for several years. We have found Tiger Tech to be reliable, economical, and responsive to our needs. Click here to learn about Tiger Technologies Web hosting.
---
Tuesday, July 12, 2005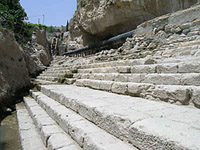 Update on the Pool of Siloam Excavation. Todd Bolen has a good update on the excavations of the Pool of Siloam (John 9), including a great photo taken May 19. Take a look at BiblePlaces.com.
---
Tuesday, July 12, 2005
Have you been to Samaria lately? Well, most folks haven't, even those of us who love to travel to the Bible Lands. Samaria, Shechem, Jacob's Well, Ephraim, Dothan, Shiloh, Tirzah, and other important places in biblical history, are in the Palestinian territory. A group of professors and students of the Studium Biblicum Franciscanum, Jerusalem, made a trip to Samaria May 16th, 2005. You might enjoy reading their account and downloading a few of the photos they took here. The small photo below shows the steps leading up to what was once the Temple of Augustus, built by Herod the Great. The gospel was preached in Samaria by Philip, Peter and John (Acts 8). There is also a good photo of Jacob's Well.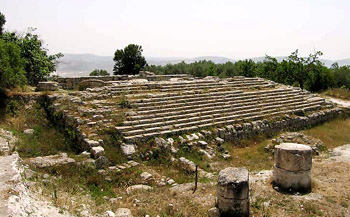 ---
Monday, June 27, 2005
Miller Avenue Lectures and California Visit . Last week I worked with Don Truex in the Miller Avenue Lectures in San Jose, CA. Don is a great co-worker. He is well versed in Scripture and his lessons are addressed to the needs of his audience. This was the second time we had worked together at Miller Avenue and it was a real pleasure for me. I presented lessons on Bible History and Archaeology in the evening, and Journeys Through Ancient Lands each morning. There were five other speakers who spoke once each day: Richard Dowdy, Billy Davis, Jim Tope, Bob West, and Scott Higgins. Miller Avenue is a vibrant church with good elders. David Barnes has served the church as evangelist for many years.
After the lectureship Elizabeth and I are remaining a few days in California. We worshipped with the brethren in Oakdale on Sunday. Today we spent some time in Yosemite National Park (a national park since 1890). The waterfalls are beautiful at this time of year. Here is a little photo of Yosemite Valley today.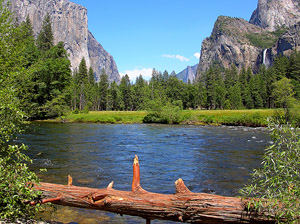 ---
Thursday, June 16, 2005
BibePlaces Newsletter . Todd Bolen operates BiblePlaces.com. In his recent Newsletter he has several new high resolution aerial photos of sites in Israel. I suggest you check the Newsletter and download the wonderful photos for use in your teaching. The photo below is a miniature of the Plain of Sharon with the ancient city of Joppa (in the foreground) and the modern city Tel Aviv.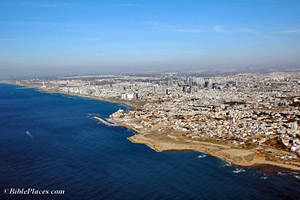 ---
Thursday, June 16, 2005
Jordan Park Stay. Elizabeth and I returned Tuesday from a 9-week stay in Huntsville, AL, where I worked with the Jordan Park Church of Christ. It was a busy time. I taught (as much as I could cover) the following series of lessons: Between the Testaments; Introducting the Son of Man to the Sons of Men (Lessons from the gospel of John); The Evidence of Fulfilled Prophecy; Bible History and Archaeology; Daily Life in Bible Times.
Huntsville is my hometown, but I have not lived there since 1953 when I went away to college. My elderly mother lives there and I a member of the Jordan Park church. We spent a good bit of time making arrangement for her needs, and those of her older sister. Jordan Park is a good church and it was a pleasure to be with them for this extended period. Lowell Sallee recently moved from there to work in Kentucky. The church is now planning for a new preacher to work with them. The elders are good men that I have known for a long time. I appreciate their good work and the opportuntity they gave me. Check their web site or their online or correspondence course (they have had students from all over the world).
---
Saturday, April 23, 2005
Zion, Illinois. Earlier this month I presented a series of lessons on Archaeology and Bible History with the Church of Christ in Zion, IL. It was a pleasure to be with these brethren. David Padfield has worked as an evangelist with them for several years and I always enjoy his company. David has much good material available at the church web site, including books, clip art, and Bible Land photographs. We were able to spend a few hours in the Oriental Institute at the University of Chicago photographing some of the new exhibits.David examines an ossuary, an inscription, and a tiny fragment of a Dead Sea Scroll.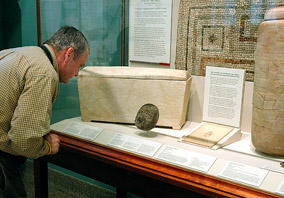 ---
Saturday, April 23, 2005
What kind of American English do you speak? Check this neat little program. I had some difficult deciding on some of the answers. Check your own Linguistic Profile. Here is mine. Not bad, perhaps, when I think of the places I have lived and worked.
Your Linguistic Profile:
45% General American English
25% Dixie
25% Yankee
5% Midwestern
0% Upper Midwestern
---
Thursday, March 24, 2005
Regent Radio. Regent Bookstore presents audio lectures by a variety of evangelical scholars via Regent Radio. Today, for example, you might listen to Alister McGrath, J. I. Packer, or Eugene Peterson. Regent Bookstore allows one to sample full lectures of CDs that can be purchased.
N. T. Wright. Check out the NTWRIGHTPAGE for lectures, articles, quotations, and audio/video of N. T. Wright, author of The Resurrection of the Son of God.
---
Wednesday, March 23, 2005
The Archaeology Forgery Scandal. Macleans.CA has published "Cashbox," an article about the archaeological forgery scandal that includes interviews with many of the major players. Read it here. The big items are here: the James ossuary, the Jehoash stone, the inscribed pomegranate, etc. The big names are here: Oded Golan, Robert Deutsch, the Royal Ontario Museum, Dan Rahimi, Shlomo Moussaieff, André Lemaire, Hershel Shanks, Ed Keall, Eric Myers, Joe Zias, Yuval Goren. It is a fascinating article. Much mystery still remains. Thanks again to Jim Davilla for calling attention to this article at PaleoJudaica.
---
Friday, March 18, 2005
The Work of the Scribe. Jim Davilla, at his PaleoJudaica blog, has called attention to an article in the Jerusalem Post about the work of the modern Jewish scribe. This article should be of interest to anyone who is studying biblical life and times. The article is Past Perfect: Written by hand. Ezra is the best known scribe of Bible times (Ezra 7; Neh. 8).

Ancient Ships in Egypt. Kathryn Bard, Boston University, discovered "well-preserved timbers and riggings of pharaonic seafaring ships inside two manmade caves on Egypt's Red Sea coast." Thanks to Jim West, Biblical Theology blog, for this note.
---
Friday, March 4, 2005
Egypt Update. We have had some delays in getting photos of the Egyptian Adventure tour online. If you are interested take a look at Egyptian Adventure tour.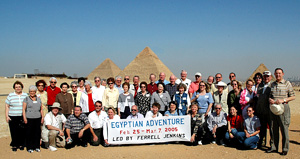 ---
Friday, February 18, 2005
Discovery of Coptic Materials. Al-Ahram Weekly, an Egyptian newspaper, report the discovery of "a major Coptic trove buried under the remains of a sixth-century [AD] monastery located in front of a Middle Kingdom [2000 - 1780 BC] tomb." Check the newspaper for the story and a nice photo. Zahi Hawass, secretary-general of the Supreme Council of Antiquities, compares this find to the Nag Hammadi documents (1945) in importance.
---
Monday, February 7, 2005
Biblically Related Artifacts in the Museums of Berlin. I am scheduled to make an illustrated presentation tomorrow during the Florida College Annual Lectures on "Biblically Related Artifacts in the Museums of Berlin." Over a long period I have prepared a document listing significant Biblically related artifacts in the museums, especially the Pergamum Museum. Our most recent trip there was in September, 2004. This material should prove helpful to those who plan visits to Berlin. The five-page document is in PDF. Click here for the Berlin material. We have similar material available on the British Museum and the Louvre.
---
Saturday, January 21, 2005
New galleries open at the Oriential Institute in Chicago. The OIUC announced yesterday the opening of the East Wing Galleries on January 29, 2005. The new galleries are called Empires in the Fertile Crescent: Ancient Assyrian, Syro-Anatolian, and Israel (Megiddo). The press release includes some good photographs. Follow this link. The Mesopotamian Gallery reopened in the fall of 2003. Add to this the Persian Gallery and the Egyptian Gallery and the museum provides a wonderful collection for anyone interested in the Ancient Near East and its relation to the Bible.
---
Saturday, January 15, 2005
Plant City, Florida, Church Now 100. The church in Plant City was established in 1905. Hugh W. Davis has been living at Plant City since 1979. He has taken in hand the task of collecting information from old records and long-time members to compile a brief history of the church. I think material like this is good to remind us of the work that has been done in a specific area, the encouragments, and the disappointments. I had long wished that James R. Cope or Griffin Copeland might write a history of the work of the Lord in the Tampa Bay area, but the task, if it is ever done, must now fall to someone else. Thank you, brother Davis. Gary Ogden has worked with the Plant City church as evangelist since 1978. You may download the document in Word format: Plant City Church of Christ 1905-2005, or in Adobe PDF: Plant City Church of Christ 1905-2005 PDF.
---
Saturday, January 14, 2005
Five Day Bible Reading Program 2005. Mark and Deena Roberts continue to provide us with a good program for reading through the entire Bible within the year. Download a copy at Bible Class Material. Take a look at the other materials available.
---
Friday, January 14, 2005
The Question of God. PBS recently broadcast a show on The Question of God. The program talks about Freud and C. S. Lewis. Take a look at the web page and check the resources. The web page says, "In the 20th century, Freud is the atheist's touchstone." Of C. S. Lewis it says, "Lewis was the 20th century's most popular proponent of faith based on reason."
---
Sunday, January 9, 2005
Daily Life Series at Kingsport, TN. Earlier tonight I closed a weekend series on Daily Life in Bible Times with the church in Kingsport, TN. This was my second series of lessons with the church there, and it was a pleasure to be with them again. Phil Mullins continues to serve the church as preacher. They have two fine elders and a good congregation. This series of lessons covered the land of the Bible, agricultural practices in Bible times, the potter and his pottery, animals of the Bible, and disease, death and burial in Bible times.
---
Friday, November 19, 2004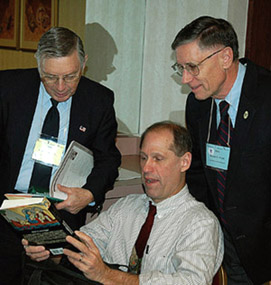 Near East Archaeological Society. Yesterday I gave an illustrated lecture on "Using Museum Artifacts for Apologetics: Examples From the British Museum" at the annual meeting of the Near East Archaeological Society in San Antonio. The NEAS meets an an affiliate organization with the Evangelical Theological Society. Bryant Wood, Director of Associates for Biblical Research, is the program chairman of the society. Several well known conservative scholars active in the organaztion include Wood, Keith Schoville, Al Hoerth, and Edwin Yamauchi. The photo shows Schoville and Wood looking at a new book which Gary Byers is showing.
---
Friday, November 19, 2004
Drew is growing. Here is a picture I made of Drew last Tuesday. (It is my page, you know.) He is growing and doing well. Mom and Dad are learning to adjust to his schedule.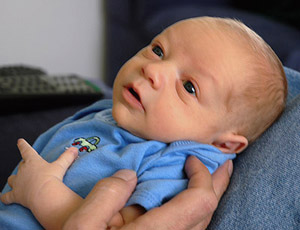 ---
Friday, November 19, 2004
Preacher's Seminar, Annandale, VA. November 11 and 12 I spoke at the Preacher's Seminar [Floyd does not know the difference between a seminar and a lectureship!] conducted by the Annandale Church of Christ. Floyd Chappelear has been working with the church there for the past 32 years. This annual program provides a good opportunity for visiting preachers to study the Word. And it is good for the local church.
---
Sunday, October 24, 2004 (Posted 10-28-04).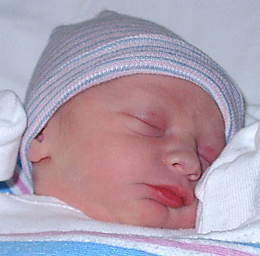 Meet Drew. Last Sunday evening (10-24-04) Andrew William Jenkins entered this world. Drew is the son of Stanley and Terri Jenkins. Stan is my younger son, and Drew is my only grandchild. I had planned to be home when he was born, and even rescheduled a meeting one week early in order to do so. Stan sent me a nice photo and I will share it with you. I think each one will agree that he is the cutest baby you have ever seen.
The Psalmist said, "Indeed, may you see your children's children" (Psalm 128:6). Obviously I hope to see Drew grow to be a young man who determines to give His life to the Lord.
Later I may post some more photos. Keep checking back for the link.
---
Thursday, October 28, 2004
Laurel Canyon, Columbus, Ohio, Meeting. This evening I closed a meeting with the brethren at Laurel Canyon Church of Christ in Columbus, Ohio. I think attendance on Sunday was about 175. It was a pleasure to be with these brethren for the first time. Todd Rogers, who is a school principal, works with the church as preacher. The brethren meet at 409 McNaughton Road. It is easy to reach the building from I-270 by taking the Broad Street or Main Street exits. Visit with them when you are in the area.
---
Wednesday, October 27, 2004
Visit to Campbell Country. I have an interest in church history and believe that we blunder when we try to cut ourselves off from the past. We may not agree with much that was done in the Reformation and the Restoration Movement, but we do learn many important lessons from these efforts. In September I was able to visit several sites associated with the early Reformation Movement in Eastern Europe.
Last week I spent a day revisiting sites around Bethany, West Virginia, and Washington, Pennsylvania. This is where Thomas and Alexander Campbell worked in the early 1800s. The Campbell Mansion, built between 1792 and 1840, is now a National Historic Landmark. I recall that both Thomas and Alexander Campbell died in this house. God's Acre, the family cemetery is located on a hill above the house. Buffalo Creek, where Alexander Campbell was baptized is nearby, as is the site of the Brush Run church, the first congregation established by the Campbells. Bethany College now dominates the little town of Bethany. Check the website for information about Historic Bethany.
---
Wednesday, October 27, 2004
Interesting Personalized Tag. The other day in Ohio I saw a personalized license plate with this wording: 3IN1 GOD. At least we know where the owner stands on that question.
---
Saturday, October 16, 2004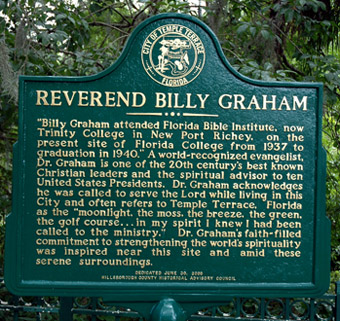 Flap over Graham historical marker. The Northeast section of The Tampa Tribune today has an article about a swap of the historical marker honoring Billy Graham. The marker was placed in a tiny park-like area along the Hillsborough River only a few feet from the Florida College property. I did not see the original sign but I do remember that there was some controversy over the sign when it was erected. The original marker began this way: "Billy Graham attended Florida Bible Institute, now Florida College." Many times over the years I have been asked about Billy Graham attending Florida College. He was a student on the same campus as Florida College, but Florida Bible Institute relocated and is now Trinity College in New Port Richey, FL. The paper indicates that a vice president at Trinity ordered the change. The city of Temple Terrace recently became aware of the change and ordered the sign removed until they can resolve the matter. Last spring, when I got a new digital camera, I was making some photos along the river and made this shot of the marker. I was not aware, until today, that it was not the original marker. I am reminded of the Proverb, "Do not move the ancient boundary Which your fathers have set" (22:28). The newer marker does more correctly reflect the facts.
---
Monday, October 11, 2004
White For Harvest.Org. Matt DeVore has founded a "discussion forum to share, encourage, and inform brethren
about the important work of evangelism in each of our everyday lives." Take a look. You might find it helpful. Matt also operates Devore Data Solutions, a company offering web hosting, web design, domain names, and PC support.

---
Saturday, October 9, 2004
Reading on the Psalms. Here are links to some material to which I plan to call attention in a class on The Christian and the Psalms tomorrow.
Psalms and the Christian. Seven lessons by Mark Copeland in his Executable Outlines series. PDF.
We Would See Jesus as Seen in the Psalms, by F. Furman Kearley. Apologetics Press. 13 pages. PDF.
An entire book by Ray Stedman, Psalms of Faith, is available online. One may listen to the sermons. Read in HTML or download the entire book in PDF. Click here.
---
Wednesday, October 6, 2004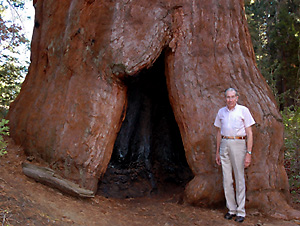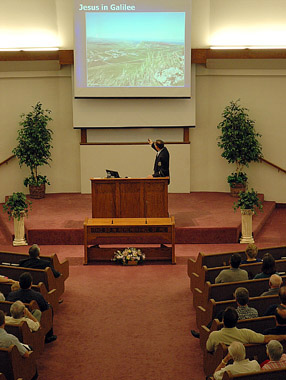 Clovis, California. This evening I completed a series of lessons on Archaeology and Bible History with the Church of Christ in Clovis, California. There was good interest throughout the series and the audience was attentive to the materials we presented. This series of lessons provides Bible students with a better insight into biblical history and shows how archaeology assists the student in his Bible study. Norton Dye has worked with the Clovis church for 37 years and continues an effective work. Most of his time is spent in home studies. Scott Young also works as evangelist with the congregation. Norton and Beth were my hosts during this meeting and it was a pleasure to be with them. Norton was kind enough to take me to Kings Canyon National Park to see the giant sequoias. We enjoyed the day and marveled at the majesty of God's creation. Norton looks real small beside this old tree, and it is one of the smaller ones! This, too, requires that we ask, "What is man that You are mindful of him?" (Psalm 8).
Visit the web page of the Clovis church.
---
Sunday, September 19, 2004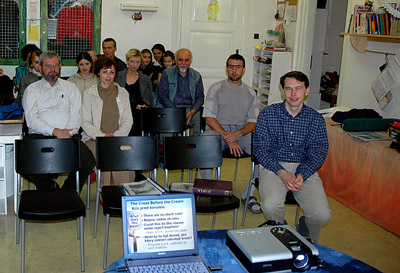 The Lord's Church in Prague. This morning I spoke twice in Prague, Czech Republic. The brethren meet in a child care center on Sunday morning. Sunday evening and Monday evening they have rented another facility for two lectures dealing with Archaeology and the Bible. These lectures are being presented in an attempt to make contacts with non-Christians. It is a pleasure to be with these fine Christians. Mike Morrow has been working here since 1991. Robert Hodanko translated for me.
My tour of Eastern Europe visited Prague about a week ago. For some photos from that tour visit this site.
---
Monday, September 6, 2004
Here are a few notes I wrote regarding Hurricane Frances.
It is 1:33 p.m., Sunday, Sept. 5. Many of the churches in the area did not have services this morning. It is unsafe to be out on the highways because of possible flooding, downed power lines, etc. We met in our home with 9 of our closest neighbors, mostly from Carrollwood. The western side of the big band west of the eye of the hurricane is very near us. The next few hours will be the worst for us. We have lost power momentarily many times since last night. Winds have been strong at times. I am surprised that we have not lost power permanently. I expect that to happen soon and we may not be able to get online for some time.
8:00 a.m. Monday, Sept. 6. We still have power! We know of several friends who live a few miles away who have been without power since Sunday morning. It has rained almost constantly since about 2 p.m. Sunday. We have had a total of 9 inches. This morning we are getting rain and winds from the backside of hurricane (now tropical storm).
Monday evening. Our power went off shortly after I wrote this morning. It created a few difficulties because we were preparing for a trip. We had little damage beyond a few short brances. One tree limb fell through our screen enclosure. There was a good bit of flooding in some areas of Tampa, and even in Temple Terrace.
Postscript Regarding Hurricane Jeanne [Sept. 26]. We returned home from Eastern Europe only to be faced with another hurricane -- Jeanne. The winds were more severe by the time it reached our area, again on a Sunday. Our damage was limited to small limbs, and power outage for 18 hours. Many Floridians, even those as near as Brandon and Lakeland, suffered much more severe damage. We are hopeful that Florida will be spared another hurricane this season.
---
Thursday, September 2, 2004
Evidence Series in Cary, NC. Last weekend I presented a series of lessons dealing with Evidence for Faith at the Walnut Street church in Cary, NC. It was a pleasure to meet the brethren there and to find a large number of my former students. Jeff Archer, with his wife Martha, has worked with the church there for the past 11 years. Wiley Lovelady and Charlie Shreeve serve as overseers in the church. Wiley, and his wife Kathi, were also my students (back in the ancient days!).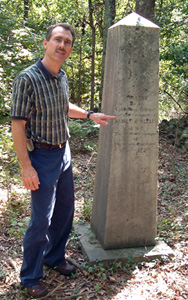 One morning Jeff, Ed Johnson (my host), and I went a little south of Durham to visit the grave of James O'Kelly. The O'Kelly Chapel Christian Church was organized in 1794. The building (now the fourth) is clearly marked by an historical marker. The grave is difficult to get to but worth the visit. O'Kelly was a sort of pre-restorationist who died in 1826.
Jeff points to the name of O'Kelly on the grave marker erected by friends of O'Kelly. Jeff has been there before. Otherwise I doubt we would have located the grave.
I would like to write more about O'Kelly, but time does not permit it at this time. Click on our Scholarly button and then go to Restoration Movement. Click on the link to Restoration Movement History where you will find more info about O'Kelly and many Restoration preachers.
---
Thursday, September 2, 2004
Then and Now - The Church of Christ in Atlanta. This article was written in 1963 by Doris Davis, late wife of Hugh Davis, now of Plant City, Florida. I consider it of value far beyond the references to Atlanta. I am honored to be able to publish it at the request of her husband and daughter. Read and consider.
---
Saturday, August 21, 2004
The Secular Left Goes on Attack. The quotation below is from an article by Dr. Albert Mohler, president of The Southern Baptist Theological Seminary.
Are you ready for an army of secularists to invade the sanctuary of your church, looking for evidence to use in complaints to the Internal Revenue Service? That is a question now faced by evangelical pastors and many Catholic priests as critical issues of moral importance are preached in the pulpit. Developments in Arkansas, Kansas, and across the nation draw attention to a real and present danger faced by Christian churches.

The First Baptist Church of Springdale, Arkansas traditionally holds a festive service featuring patriotic themes to commemorate the Fourth of July. This past July 4, the church held its service, which featured a multi-media presentation that included a message preached by Dr. Ronnie Floyd, the church's pastor. Within days, controversy erupted and a group known as Americans United for Separation of Church and State had filed a formal complaint with the IRS, charging the church with violating the IRS code and thus threatening its tax-exempt status.
I suggest you read the entire article on Mohler's weblog at crosswalk.com.
---
Monday, June 28, 2004
Special Series With Upper West Manhattan Church of Christ. Elizabeth and I enjoyed a wonderful visit with the Upper West Manhattan church in New York City, June 19-20. The brethren meet in the Hostelling International NY [a hotel], 891 Amsterdam Avenue. Follow this link to their web page for more information. Sewell and Caneta Hall are working with the church and are appreciated by the brethren. Sewell and Caneta have worked with some of the stronger churches, but are especially noted and appreciated for their willingness to work in difficult areas, such as Nigeria, London, and New York. We enjoyed our visit with them during the meeting. Every time we are around them we leave encouraged and more determined to serve the Lord. On Sunday evening the Halls took us to Fairlawn, NJ, where I spoke for the brethren. When your travel takes you to New York on Sunday or Tuesday be sure to visit with the Upper West Manhattan congregation.
The photo to the right is of Caneta, Sewell, and Elizabeth at the entrance to the Hall's apartment. Don and Cami Bunting plan to move to New York by September to work for the Lord. They will be a good addition to the work there.
---
Monday, June 28, 2004
Evidences For Faith series at Cullman, AL. In early June I enjoyed a week with the South Cullman Church of Christ, Cullman, AL. In addition to the opportunity to preach the Word, it is always a joy to visit with long-time friends, as well as make new friends. Mason and Louise Harris work with the South Cullman church, along with Mike Waters. I've known brother and sister Harris for many years and have appreciated their work. Roscoe and Betty Knight are members of the congregation in Cullman. Brother Knight led singing for the morning sessions. He taught at Florida College for many years prior to his retirement, and was affectionately known as the "Voice of the Falcons" [FC's basketball team]. Both Roscoe and Betty taught our children in the Florida College Academy.
Brother and sister James Metcalf were my gracious hosts during the meeting. James is one of the elders at South Cullman.
---
Saturday, May 29, 2004
Inspector Morse. After retirement from Florida College a few years back, Elizabeth and I became more aware that there was little worthwhile to watch on TV, even with all the cable channels. We began to watch Inspector Morse. I think we found about 35 of the programs on video in the local library system. In sorting some papers I found a link to the Inspector Morse website. If you like British detective mysteries you might enjoy taking a look at the web page and then checking your library for some of the videos.
Last September (2003) in Oxford we visited sites associated with C. S. Lewis (hopefully more later) and also noted a few of the places often shown in the Inspector Morse series. In the small photo to the left you see a photo of us outside the Randolph Hotel. Just to the right of my still-natural hair you might be able to make out the words on the menu for the Morse Bar. We only looked!
---
Friday, May 21, 2004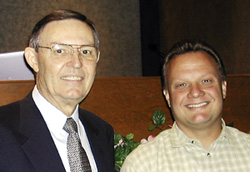 Evidences For Faith series at El Cajon, CA. Wednesday I completed a series of lessons on Evidences For Faith with the Johnson Avenue Church of Christ, El Cajon, CA. John Mulligan serves as evangelist with the church. I enjoyed the visit with the brethren there. Three mornings I presented lessons on topics related to the Middle East Conflict and the Bible. Visit their web page. John was one of my former students. John and I had a our photo made by Althea Channell.
---
Friday, May 21, 2004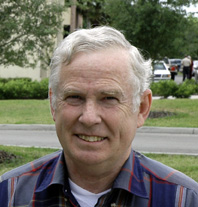 Spring Course at Florida College. During the Spring semester I taught a course in the Book of Revelation at Florida College to a fine group of young students. There were 26 enrolled in the class, and four older adults made the class part of their weekly activity. It was nice to be back in the classroom, but I am pleased that it is over.
I filled in, along with Melvin Curry and Almon Williams, to help Dr. Phil Roberts. Reports on Phil's condition are posted regularly at the Florida College web page. Phil was able to join the faculty and staff the last day of the semester at a luncheon.
---
Tuesday, March 30, 2004
Give wings to truth. The e-Sword web page includes this insightful comment about the use of the printing press. How much more the Internet. Let us use it wisely. How sad when it is used to bite and devour!
Religious truth is captive in a small number of little manuscripts which guard the common treasures, instead of expanding them. Let us break the seal which binds these holy things; let us give wings to truth that it may fly with the Word, no longer prepared at vast expense, but multitudes everlastingly by a machine which never wearies to every soul which enters life. — Johann Gutenberg
The e-Sword web page uses this slogan: "Eliminating Biblical illiteracy . . . one download at a time."
---
Check this site in a blank window: If I Die Before You Wake
---
Friday, March 19, 2004
Ceremonialism. I ran across an insightful comment by Alfred Edersheim in his comments about Jesus' observance of the Paschal Supper [Passover].
"Ceremonialism rapidly develops, too often in proportion to the absence of spiritual life."
- The Life and Times of Jesus the Messiah. Vol. 2, ch. 10.
---
Friday, March 12, 2004
University Heights, Lexington, KY. For the past three weeks I have been teaching classes for the University Heights church in Lexington. This was a sort of experiment by the church. Four days a week at noon I taught Between the Testaments. Two nights a week we had two hour-long sessions on Daily Life in Bible Times. On Sunday morning and Wednesday nights I taught A Chronological Survey of the Bible. On Sunday evenings I spoke about A Journey Through Ancient Lands, primarily about a recent trip to Lebanon and Syria. We averaged about 45 for the weekday lessons. For the two hour classes in the evening we never had less than 100. Incredible! We had no singing in the evening. I spoke the full time except for a 10-minute break between sessions. The interest was overwhelming to me. A number of UK students attend University Heights and I enjoyed having them in my classes.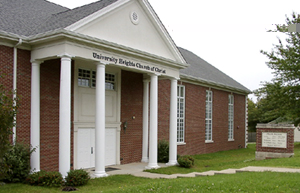 Bill Robinson is evangelist with University Heights, and is doing a good work. He and Judy are wonderful hosts and I enjoyed the three weeks in their home, in my own quarters. The elders, Ruel Baker, David Collins, and Jeff Padgett, are good men of faith and vision. It was a pleasure to work with them. The church was fully behind the decision they made to have these classes.
The University Heights church has a wonderful location directly across the street from the William T. Young Library of the University of Kentucky. You can find the address and other information from their web site which opens in a separate window.
---
Par Street, Orlando, FL. In mid-February I presented a series of lessons on The Middle East Conflict and the Bible with the Par Street Church of Christ, Orlando. The Par Street church has had some rough days in the past, but I detected a wonderful spirit and a renewed interest while I was there. Rod Amonett effectively serves the church as evangelist, and is one of the overseers. Hal Walker was my gracious host during the meeting.
---
Monday, Feb. 02, 2004
Some Biblically Related Artifacts in the Louvre. For a number of years I have been collecting information and photographs of biblically related artifacts in the Louvre. I have visited the museum many times, sometimes spending two or three days in the musuem on each visit. When I take a group to the museum I show them the most significant artifacts relating to the biblical account. A document containing some of this material is now available in PDF for you to download and use in your study. Let me know if you find it helpful. Especially if you use it on a visit to the Louvre. Click here [Louvre] to view the material. Last year I presented a lecture on the Biblically Related Artifacts in the British Museum. The documentation for that presentation is available at here [British Museum].
---
Tuesday, Jan. 20, 2004
Web Design. Jessica Harber Rice, a friend who did the web design for BiblicalStudies.Info, is developing a nice portfolio. Any individual, church, or other organization wishing to utilize the Internet would be well advised to seek her services. Take a look at her new JHR Design! page.
---
Tuesday, Dec. 16, 2003
Books Now Online. Mark Roberts has launched a great new web site called BibleClassMaterial.com. Several competent brethren are making available good class material. My Middle East Conflict and the Bible is now online, and I hope to have some other material available soon. Take a look.
---
Tuesday, November 18, 2003
Emerald Ireland and England Trip. In September we directed an enjoyable, leisurely, and pleasant tour to Ireland. If you would like to see some of the photos made during that tour click here. A highlight for me was the visit to the Chester Beatty Library in Dublin. Manuscripts of the Epistles of Paul, dating to the late second century A.D. are housed here. Several years ago I visited the Library, but it has since moved into the center of Dublin in a more spacious facility.
At the close of the Emerald Ireland tour Elizabeth and I went to England. We spent two days in Oxford, visiting the Ashmolean Museum, and taking a tour of places associated with C. S. Lewis. Ron Brind lived a stone's throw from "The Kilns," former home of Lewis. He was a childhood friend of the step-son of Lewis. As time permits I plan to put a few of the photos online for your viewing. If you have plans to be in Oxford I suggest you contact Ron and set up a tour. He is a pleasant person and make the visit enjoyable. Visit the C. S. Lewis Tours web page for details.
In London I spent most of the time in the British Museum, as I always do when I visit London.
Kentucky and Indiana. Shortly after returning from England, I visited with the elders and preacher of the University Heights Church of Christ, Lexington, Kentucky. I am preparing to spend several weeks with them next year teaching some special classes. I also had the opportunity to visit Cane Ridge and the Lexington Cemetery, where many Restoration leaders are buried. After that I presented a series on Evidences For Faith with the church in Clarksville, Indiana. The church is served by two elders, Willis and Steve Nale (father and son). Kipp Campbell is the preacher.
Early in November I presented a series on The Middle East Conflict and the Bible with the Centerville Road Church of Christ, Tallahassee, Florida. We also did a few day lessons on a Journey Through Ancient Lands. Gene Taylor has been working with the church there for many years. I enjoyed renewing acquaintance with several former students and others I had known in other places. The church has a good location and is active.
Last Thursday and Friday I spoke on the Preacher's Seminar at the Annandale (VA) Church of Christ. My topics were on Babylon and Tyre in Prophecy. Floyd Chappelear has been with that church for many years. The annual seminar is a good program intended especially for preachers who wish to attend. It runs all week, but I could only be there two days. In addition to my lessons I heard five other speakers, Mike Hardin, Wallace Brake, David Tant, Ed Harrell, and Bob Owen.
And besides all of that I have been teaching the book of Revelation at Carrollwood Church of Christ in Tampa this quarter. The class is using my Studies in the Book of Revelation as a text along with the Bible.
---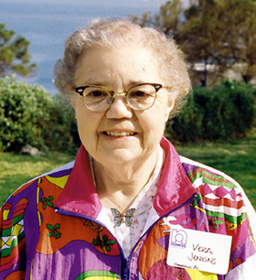 An Important Birthday Celebration - September 12, 2003
My mother, Vera Jenkins, was born September 12, 1913. This week our family is joining my mother in the celebration her 90th birthday. She has meant a lot to me, and I will forever be indebted to her for the contribution she made to my life.
Mother taught in public school and at Athens Bible School and Madison Academy. She was active in teaching Bible classes at church. She enjoyed the two trips she was able to make to the Bible Lands with me. This is one of my favorite pictures of her that I made at ancient Joppa on the Mediterranean Sea, March, 1993. I am sure that the stories about Jonah and Peter took on a new reality for her as a result of this visit.
---
Saturday, August 30, 2003
Series at Plano, Illinois, Completed. This week I presented an Evidences For Faith series to appreciative audiences at the Plano Church of Christ. We had a good number of visitors from neighboring congregations in the area. The church at Plano is served by three elders, and brother Lloyd Atherton serves as preacher for the congregation.
During the week I had the opportunity to make a return visit to the Oriental Institute of the University of Chicago (OIUC) to make some digital photographs. I was a bit disappointed because only the Persian and Egyptian galleries were open. The two galleries that are of most help in illustrating Bible history are the Mesopotamian and Canaan (or Palestine) ones. I could see through a glass door the work going on in the Mesopotamian gallery and it is looking nice. It is scheduled to open Oct. 18. I was told that the Canaan section will not reopen for about a year.
---
Saturday, August 23, 2003
To Churches Wishing to Improve Their Worship in Song
Most brethren love to sing, and everyone enjoys it more when it is directed correctly. The song leader makes an important contribution to the worship service. Most of them would welcome some professional help to improve their skill. Recently at Carrollwood in Tampa we had brother Scott Wyatt to visit with us for five Sunday evenings to conduct a singing class for leaders for one hour each week, followed by an hour devoted to worship in song.
I was impressed with the way Scott conducted the class and worship period. We had about 20 men, young and old, who attended the class. By the third Sunday evening Scott had these men directing the singing during the worship period. The improvement in our singing was evident to everyone. I think we would have enjoyed having Scott with us another week or two, but he had to leave due to a singing engagement in Paris.
Scott Wyatt is an internationally recognized opera singer. He has held professional singing engagements with almost every major opera company in the United States and now has begun singing in Europe as well. As of 2001, he held his first European engagement in Germany and this fall [2003], he will debut in Strauss's "Salome" at the Bastille Opera House in Paris. After this he has a few small symphony, opera, and recording engagements throughout the winter. He has some time open from November through the middle of April to work with churches in singing classes. This kind of program could be conducted on a weekend, especially if the men could devote several hours on Saturday to a class with Scott.
Scott taught music and conducted the chorus at Florida College from 1996 to 2001, when he decided to spend more time with professional engagements. It is with pleasure that I commend Scott to any church wishing to avail themselves of his services. He is an affable young man who enjoys using his talent to help brethren. You may contact him by Email at wyatts92 at [substitute @ for at] hotmail.com.
---
Thursday, August 14, 2003
Did Chesterton Write This? "A man who won't believe in God will believe in anything." or "When a Man stops believing in God he doesn't then believe in nothing, he believes anything." For the facts, check the Challenge the Quotemeister link at The American Chesterton Society.
Study Hint: Learning Where to Find Your Worms. A preacher friend who works with saints in Vietnam from time to time reported listening to one of the local brethren teaching his audience about "the importance of learning the book, chapter, and verse in which specific material is found." He asked the native to tell him the illustration he had used. "What illustration? he replied." "It sounded like you were talking about a fat chicken," I said. "Oh, I just told them that the chicken that scratches the ground everywhere everyday never grows fat. The fat one is the one that can remember where he found his worms in the past." Thanks for passing along this tip, Allen. 05-31-03
Spurgeon. The following quotation is attributed to the English preacher, C. H. Spurgeon (1834-1892), in Gems From Spurgeon (1859), 74.
"If you want truth to go round the world you must hire an express train to pull it; but if you want a lie to go round the world, it will fly: it is as light as a feather, and a breath will carry it. It is well said in the old proverb, 'a lie will go round the world while truth is pulling its boots on'."
This is sad, but true. The electronic world has even allowed lies (and doctrinal error) to move faster.
Check our Selected Quotes I Like page for other good comments.
---
Tuesday, August 12, 2003
Not Everything is Easy to Understand. Every now and then I run across something written (or spoken) by a fellow who thinks he knows the answer to every difficult Bible question. In fact, he even appears to believe that there are no difficult problems in the study of Scripture. While doing some study in Daniel, I ran across this helpful comment by Tremper Longman III, in The NIV Application Commentary on Daniel (Zondervan, 1999). Regarding a portion of chapter 11, Longman says,
"ANYONE WHO DOES not acknowledge a difficulty here is a polemicist in the worst possible sense. That is, he or she knows better that this is a difficult passage one way or the other, and not to acknowledge the difficulty and not to allow for tolerance for the other view is simply bad faith" (280).
One might apply this to any number of difficult questions in Scripture.
---
Tuesday, August 12, 2003
Some Interesting Photographs. Microscopic photographs of various items can prove most colorful and interesting. Check the Molecular Expressions page. There you can Explore the World of Optics and Microscopy.
---
Saturday, July 19, 2003
Long Beach, California. This week I presented the Evidences for Faith series at the Studebaker Road Church of Christ in Long Beach. It was a pleasure to work with this church for the first time. The church is bilingual with parts of the service in both English and Spanish. Lonnie Fritz works with the English speaking brethren and Mark Reeves works with the Spanish speaking brethren. While I was speaking in English, brother Joe Soto of Seguin, Texas, was preaching to the Spanish speaking brethren. It was a pleasure to work with the church, the elders, and these preachers. We had many visitors from the community, partly due to an nice article which appeared in the Long Beach Press-Telegram. Here is a link to the article, Lands of the Bible come to life. [The article is no longer online. 12-09-03.]]
Visit to the Lockman Foundation. While in Southern California I had a little time to visit the offices of the Lockman Foundation in La Habra. Dr. Robert G. Lambeth, president of the foundation, was gracious to show Del Scott, one of the elders at Studebaker Road, and me around the facilities. I had met Dr. Lambeth before at a professional meeting. The New American Standard Bible is now available in the Libronix format (Logos). Take a look at the software they have available on their web page. The Lockman Foundation has granted permission for use of the NASB in several of my workbooks.
---
Tuesday, July 8, 2003
Under the Scholarly Links [Old Testament Materials] I have a link to a page devoted to the works of the late Robert Dick Wilson. Wilson spent much of his life preparing to defend the book of Daniel from its many critics. On one of these pages is a comment made about Wilson's approach to the study of the Bible by Oswald T. Allis. Read it carefully and consider the importance of good preparation in dealing with the Word of God.
"Build solidly. Prepare thoroughly. Never be satisfied with superficial answers. God's Word can stand the most thorough investigation. Do not shirk the difficult problems but seek to bring the facts to light, for God's Word and God's world will never contradict one another."
---
Wednesday, June 25, 2003
Reunion at Athens Bible School (June 14). More than 50 years have past since my graduation from Athens (AL) Bible School. I had only been to one previous reunion and had not seen some class members since graduation. Walter Buchanan said, "I have never seen so many old people with so many new teeth."
Earlier the same day I was able to attend a Lyon family reunion (my maternal grandmother) with my mother and enjoyed renewing acquaintances with some folks I had not seen in a long time.
The Bible Forum at Gettysburg, PA. June 4-8 I presented a series of lesson on Archaeology and Bible History in Gettysburg. The church has conducted the Bible Forum for the past 12 years. The first three nights were held in an auditorium on the campus of Gettysburg College. The series closed on Sunday with three lessons at the church building. It was a pleasure to be with Scott and Bertina Smelser, former students who work with the church in Gettysburg, and the other members there. We enjoyed the stay with long-time friends Wilson and Carolyn Legg.
Prior to the series in Gettysburg, Elizabeth and I spent a day in the University of Pennsylvania Museum of Archaeology and Anthropology. This is one of the top museums in the USA for artifacts relating to the Bible world. I was a little disappointed in the exhibits in the Mesopotamia section. Several items I had seen before some years ago were not presently on display. The sections on Egypt, Canaan, Greek, and Rome are very nice.
---
Tuesday, April 22, 2003
Series on the The Middle East Conflict and the Bible. Because of the renewed interest in the Middle East as a result of the unrest in Israel and the West Bank, and of the war in Iraq, I have placed the book The Middle East Conflict and the Bible on the Internet. It can be downloaded and used by an individual or in church classes from BibleClassMaterial.com. A good quarterly study.
Twice recently I have presented this series of lessons to appreciative audiences. In mid-March I worked with the North Livingston Church in Tampa. Buddy Payne and Eddie Culp work as preachers with this church. The first of this month I was with the Spring Warrior Church of Christ near Perry, Florida. Jeff Himmel is the preacher there. The "keynote" lesson of the series was presented April 13 at the Brandon Church of Chirst where David Owen preaches.
---
Thursday, March 13, 2003
You can't reach me there! For nearly eight years I have had the Email address [email protected] My old web page was located there. The account eventually became a part of the Earthlink system. The spam mail, even using the Spaminator supplied by Earthlink, had become overwhelming. Yesterday was the straw that broke the camel's back. I received about 60 emails returned to that address. Problem is, I did not send them. They did not come from my computer though some of them were for people I know. I even got back one Email that had been sent to james_r_cope. I suppose because it wasn't addressed to heaven.com there was no way to deliver it! Most of them were from people I never heard of.
This problem has affected a few links that I still had to the old web address. Perhaps in time this will be sorted out. You may have noticed that most of the Email addresses I use on the web page must be typed in by anyone wishing to respond. I understand this will keep the web harvesting machines from getting the email addresses. Some folks just don't have enough to do!
---
Monday, March 03, 2003
Series on Daily Life in Bible Times. Last week I was with my good friend John M. Kilgore and the Alief church in the Houston, Texas, area. The church invited me to present a series of lessons on Daily Life in Bible Times. This included illustrated lessons on many aspects of daily life. Topics included Toys and Games, Seals, Writing Materials, Dining Customs, Housing and Food, Death and Burial, Religion, Trades, etc. For the day lessons I spoke on A Journey Through Ancient Lands, based on a research trip to Lebanon, Syria, and Jordan in May, 2002. The series was well received. and it was a pleasure to get better acquainted with the church.
---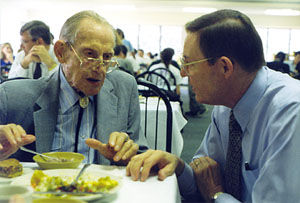 Monday, March 03, 2003

Homer Hailey. Fred Thompson came by earlier today with a few photos he wanted to give me. One was a photo he had made of Homer Hailey (1903-2000) and me at the Henderson Dining Hall at Florida College. This was the last visit I had with brother Hailey, not long before his passing. His body had become frail but his mind was still sharp. I first met him in the spring of 1953.
---
Thursday, February 06, 2003
Florida College Lectures . The annual lecture program comes to a close with the evening session. It was my pleasure to present two classes. One was on Biblically Related Artifacts in the British Museum (see below). The other one was on Biblical Study Tools on the Internet. Most of the time was devoted to surfing the Internet by using the resources available at biblicalstudies.info. Thanks to all of you who crowded into the McCarty Auditorium to learn better how to use the Internet for biblical studies.

Attendance at the lecture program is good this year, and a great spirit prevails. The evening lectures are held at the Marshall Center at USF. The center has been almost full (near 2,000) each evening. I spent most of the time I could during the days in the Puckett Auditorium for the classes, mostly taught by FC Biblical Studies faculty members. I heard some wonderful lessons. The weather has been delightful. The book, containing the major lectures, and audio tapes/video tapes (of most lessons) are available from the Florida College Bookstore. The toll free number out of Florida is 1 800 423-1648. Inside Florida the number is 1 800 922-2390.
---
Monday, February 03, 2003
Some Biblically Related Artifacts in the British Museum. My first visit to the British Museum was in 1978. Since that time I have visited the museum many times, sometimes spending two or three days in the musuem on each visit. When I take a group to the museum I show them the most significant artifacts relating to the biblical account. A document containing some of this material is now available in PDF for you to download and use in your study. Let me know if you find it helpful. Especially if you use it on a visit to the British Museum. Click here to view the material.
---
Thursday, January 09, 2003
Article on James Ossuary. The Christian Chronicle has a small article about the James Ossuary.
---
Thursday, January 09, 2003
Theosebes. This page is one of those weblogs. Most of them aren't worth the time it takes to look. This one is different. It is described as "Mordant commentary on Christianity and culture brought to you by Alan Cornett." You have to look up all of the words to understand what Alan is doing, but you might find it worthwhile. Check it at Theosebes.
---
Tuesday, December 17, 2002
Donahue Is On. The MSNBC talk host, Donahue, is on cable TV now. He has a Rabbi, a Jew For Jesus representative, a professor from Southern Baptist Theological Seminary, and a liberal from Union Theological Seminary on his program. Donahue is making his usual attack on Christianity. You've heard it dozens of times, no doubt: "You Christians think you are the only people who are going to be saved, and all of these other people are going to burn in hell."
Take a look at what Jesus said about the matter. "I said therefore to you, that you shall die in your sins; for unless you believe that I am He, you shall die in your sins" (Jn. 8:24). "I am the way, and the truth, and the life; no one comes to the Father, but through Me" (Jn. 14:6).
I think these demands of Jesus must weight heavily on Phil, as they must on every person who fails to acknowledge Jesus as Lord.
---
Tuesday, December 17, 2002
What About Christmas? An article, What About Christmas?, has been posted at biblicalstudies.info. A more detailed outline, The Truth About Christmas, can be found in PDF at bibleworld.com.
---
Tuesday, November 19, 2002
Rebuttal to the Claim That the James Ossuary is Forged. Check the article by Bryan Cox dealing with the James Ossuary.
---
Tuesday, November 19, 2002
Not Powered by Blogger. Formerly this page was updated from Blogger. Lately, I have been unable to post and publish from their page, and have decided to update it directly via FTP.
---
Tuesday, November 19, 2002
Recent Lecture Series. It has been my pleasure to work with several churches in the past two months. Most recently I presented a series of lessons on Daily Life in Bible Times at the Expressway Church of Christ, Louisville, KY. Prior to that, I enjoyed a good series on The Middle East Conflict and the Bible with the Dowlen Road Church of Christ, Beaumont, TX. In September I presented a series of lessons on the Middle East Conflict and the Bible at the Church of Christ in Brooksville, FL. It was a pleasure to work with Vic and LaDonna McCormick, long time friends. In early October I presented a series of lessons, Evidences For Faith, at the Stallings Drive Church of Christ, Nacogdoches, TX. It was a pleasure to be with Randy and Marilyn Harshbarger. There are nearly 15 former students of my at the church there, ranging from my first year of teaching until near my retirement year.


---
Monday, July 29, 2002

Introduction to Christian Evidences. My book, Introduction to Christian Evidences, is now out of print. Some copies of the book have been duplicated and are available from the Florida College Bookstore. I think they are selling it for $12.50. Call toll free for information: (in Florida, 1 800 922-2390; in USA, 1 800 423-1648). Religious Supply, Louisville, also has copies. Eventually I plan to update some of the lessons and make available a new edition.
---
Tuesday, July 23, 2002

Passing of Roland H. Lewis. This morning Elizabeth and I attended a memorial service for Dr. Roland H. Lewis. Brother Lewis was the Registrar at Florida Christian College when I enrolled in 1953. His wife, Olive, worked with the college publications and the "Living Links" program. Later, when I returned to teach at Florida College, it was a pleasure to be a colleague of brother Lewis. He served as Dean during some of those years. We extend our sympathy to sister Lewis, and to his children, Brent and Sherry.
---
July 4th. This a great holiday for Americans. I am thankful for the freedoms we enjoy as citizens of this country.
---
Monday, June 17, 2002

Closing Down the Old Page. Gradually we are closing down the original Biblical Studies WWW Page. Please tell your friends about this new Biblical Studies Info Page.
---
Wednesday, March 27, 2002
"Gender-neutral" Translations.
USA Today
has an article today about
Today's New International Version
and the debate over "gender-neutral" translations. I have been following this debate for several years. The best info I know about is found on the
Council for Biblical Manhood and Womanhood
web page. Click on TNIV Resource Center. We also have a link from our Scholarly page under Biblical Criticism. You will also find other great material dealing with manhood and womanhood.
---
Monday, January 21, 2002
Retirement Photos.
Last May I retired from Florida College after 25 years of teaching, including 10 years as chair of Biblical Studies. I have posted some of the photos taken at the retirement dinner.
Click here
to take a look at them.
---
© 2005 webmaster [at] biblicalstudies [dot] info
Notify us of dead links and possible new sites.